Juanita - Recycled Tire Clutch
/
Compact is key with our cute Juanita clutch, whose petite frame is handmade from tire tubes discarded from car and truck tires in El Salvador. Just big enough for cell phones, money clips, credit cards and the car keys, Juanita is proof that to recycle is a beautiful thing.
Measures 9 1/2 inches wide x 4 1/2 inches high x 2 inches deep
14 inch wrist strap
Pinstriped cotton lining with zipper closure
Due to its recycled nature, no two bags are exactly the same. While measurements and designs are consistent, patterns on rubber will vary. Handmade in El Salvador and fair trade imported.
Uca Ruffatti - Making Tire Bags
Watch this video on how recycled tires in El Salvador are used to make handbags, wallets, and other useful items. Click here
Uca Ruffatti Artisan Story
El Salvador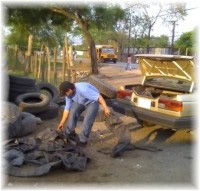 In Santa Ana, El salvador, discarded truck and car tires litter the road, ravines, and rivers, causing harm to the environment. Fortunately, one small artisan group, Uca Ruffatti, is not only helping to clean up the mess, but turning waste it into beautiful and functional works of art! Uca Ruffatti collects the inner tubes from the discarded tires and uses them to create handbags, purses, wallets and cosmetic bags in a variety of sizes and designs. The long-lasting toughness of the material contributes to the products' extensive life and durability. Some items are accented with recycled leather scraps and locally-grown cotton and indigo.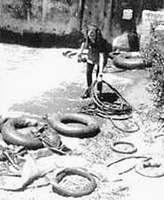 The artisans at Uca Ruffatti have repurposed tires and car upholstery to create unique and environmentally friendly purses for the past 20 years. Artisans are free to employ their creative vision when producing the bags, so each item is unique and meticulously crafted, and of course, pleasing to look at and functional in form. As such, Uca Ruffatti's innovative product line has attracted attention in the United States and Europe, and owner Maria de los Angeles de Ruffatti plans to extend her modest workshop, which means even more artisans will have the opportunity for employment.
In March 2009, One World Projects was recognized by the Fair Trade Federation on behalf of their collaboration with Uca Ruffatti. The "Excellence in Product Design" award was given in recognition of Uca Ruffatti's outstanding work in the field of design, innovation, contemporary style, tastefulness and responsible use of materials in accordance with FTF's principles and values.